[cs_content][cs_section parallax="false" style="margin: 0px;padding: 25px 0px 10px;"][cs_row inner_container="false" marginless_columns="false" style="margin: 0px auto;padding: 0px;"][cs_column fade="false" fade_animation="in" fade_animation_offset="45px" fade_duration="750″ type="2/3″ style="padding: 0px;"][cs_text]
[x_pullquote type="left"]Die Kraft der Intuition[/x_pullquote]
Brigitte is the largest women magazine in Germany, with circulation of around 800,000 and readership of 3,6 million.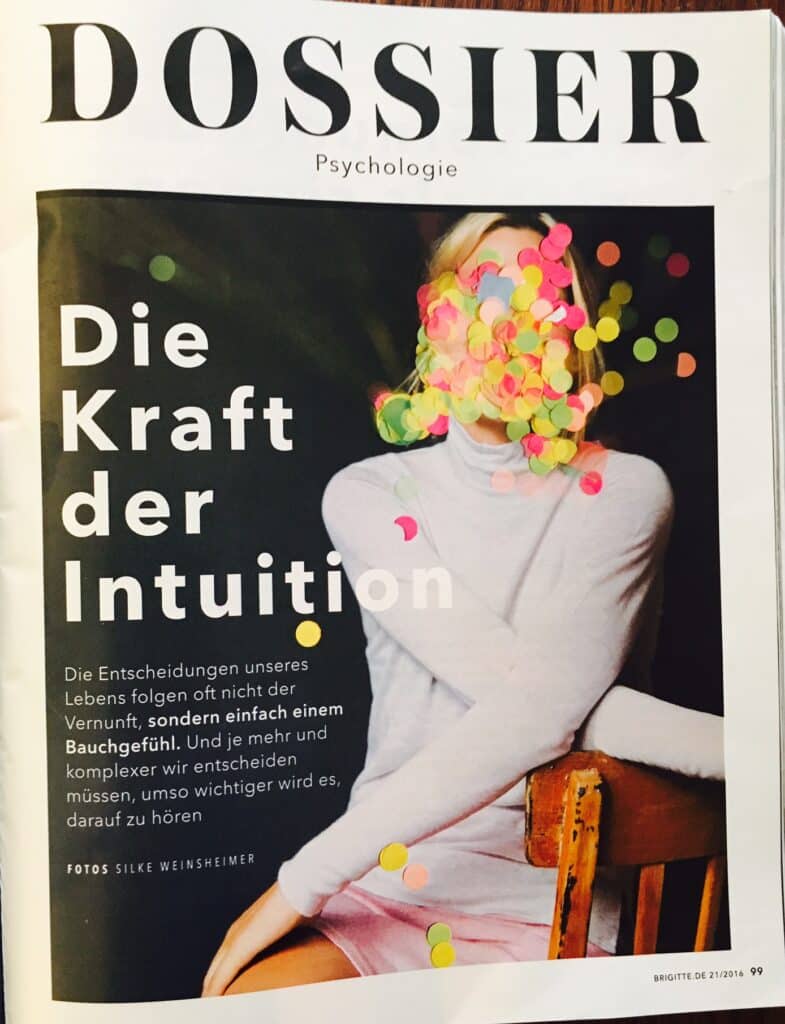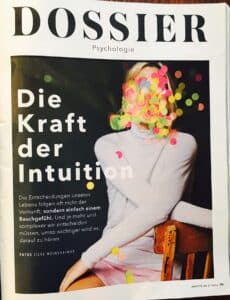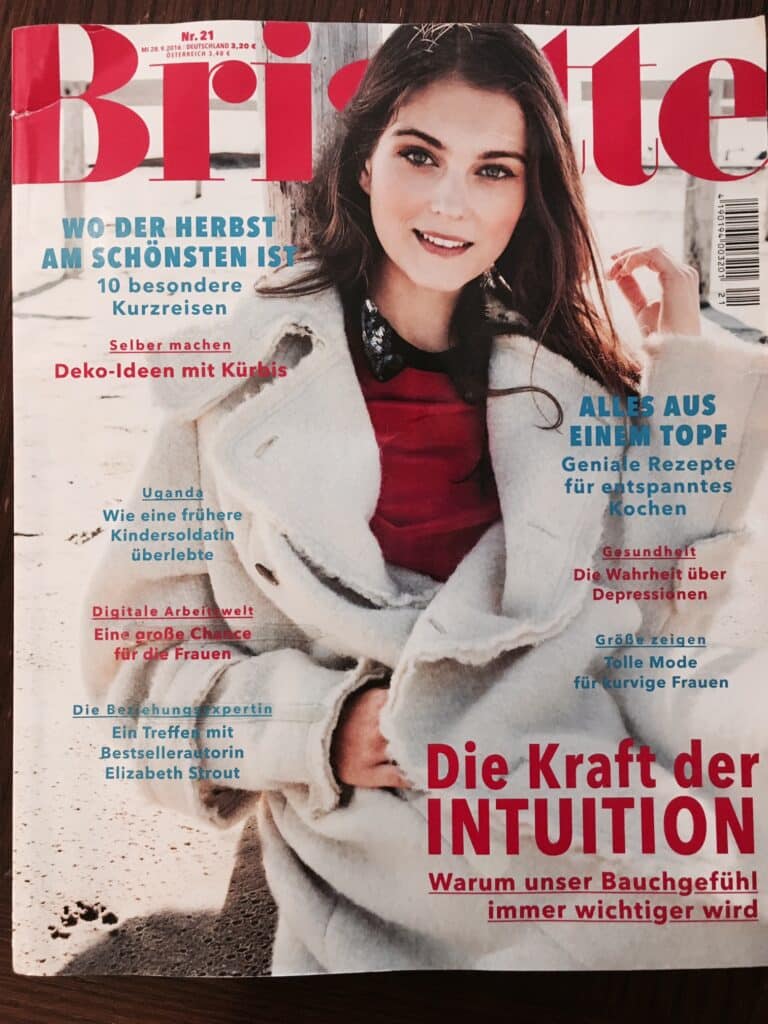 Brigitte decided to dedicate their September issue to Intuition, with a 12-page dossier on the topic. We are showing InnSæi – the Sea within in cinemas in Germany this year, which started with our world premiere on 29. June and is followed with screenings in around 30 cinemas across Germany until the end of the year. The editor of Brigitte, Sonja Niemann, felt it was fitting to interview me, on behalf of the InnSæi-team, as part of the coverage.
[x_blockquote type="left"]"Intuition for me is inner wisdom and a way for me to be aligned."[/x_blockquote]
My German is not that great… (it's bad) but I loved the theme-title of the September issue: The Power of Intuition, which happens to be InnSæi's subtitle in the USA.
[/cs_text][/cs_column][cs_column bg_color="hsla(0, 14%, 63%, 0)" fade="false" fade_animation="in" fade_animation_offset="45px" fade_duration="750″ type="1/3″ style="padding: 28px 0px 0px;"][x_share title="Share this Post" share_title="" facebook="true" twitter="true" google_plus="false" linkedin="true" pinterest="false" reddit="false" email="true" email_subject="Hey, thought you might enjoy this! Check it out when you have a chance:"][/cs_column][/cs_row][/cs_section][cs_section bg_color="hsla(0, 36%, 74%, 0)" parallax="false" style="margin: 0px;padding: 0px 0px 45px;"][cs_row inner_container="false" marginless_columns="false" bg_color="hsla(0, 29%, 81%, 0)" style="margin: 0px auto;padding: 0px;"][cs_column fade="false" fade_animation="in" fade_animation_offset="45px" fade_duration="750″ type="2/3″ style="padding: 0px;"][x_line class="pbn" style="border-top-color: #b75e08;border-top-width: 2px;"][x_custom_headline level="h2″ looks_like="h3″ accent="false" class="pbm"]More News[/x_custom_headline][x_recent_posts type="post" count="3″ offset="" category="news" orientation="horizontal" no_sticky="true" no_image="false" fade="false" class="pbl"][x_button type="transparent" shape="rounded" size="global" block="false" circle="false" icon_only="false" href="https://www.hrundgunnsteinsdottir.com/category/news/" title="" target="" info="none" info_place="top" info_trigger="hover" info_content="" style="float: right;"]all posts in news[/x_button][/cs_column][cs_column fade="false" fade_animation="in" fade_animation_offset="45px" fade_duration="750″ type="1/3″ style="padding: 0px;"] [/cs_column][/cs_row][/cs_section][/cs_content]