[cs_content][cs_section parallax="false" style="margin: 0px;padding: 25px 0px 10px;"][cs_row inner_container="false" marginless_columns="false" style="margin: 0px auto;padding: 0px;"][cs_column fade="false" fade_animation="in" fade_animation_offset="45px" fade_duration="750″ type="2/3″ style="padding: 0px;"][cs_text]InnSæi – the Sea within – or the Power of Intuition as it has been subtitled in the US, was screened on two occasion at Yale University, followed by Q&A.
On 28. September we screened InnSæi at Burke Hall at Yale School of Forestry and Environmental Studies.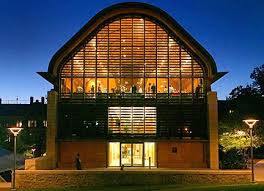 On October 12, InnSæi was screened at Luce Hall on 12. October.
InnSæi – the Power of Intuition is a new feature documentary film by Hrund Gunnsteinsdottir and Kristin Olafsdottir, which explores the art of thriving, leading and innovating in an age of distraction and transformation. By conversing with world leading thinkers, scientists and artists, the film explores to what extent our ability to connect within defines our capacity to be resilient and creative in a turbulent world.
The ancient Icelandic word for intuition is "innsæi," which literally translates as "the sea within"—the borderless nature of our inner world; a constantly moving world of vision, feelings, and imagination beyond words. The film is co-directed by Kristin Olafsdottir and produced by Klikk Productions and Met Film.
[/cs_text][/cs_column][cs_column bg_color="hsla(0, 14%, 63%, 0)" fade="false" fade_animation="in" fade_animation_offset="45px" fade_duration="750″ type="1/3″ style="padding: 28px 0px 0px;"][x_share title="Share this Post" share_title="" facebook="true" twitter="true" google_plus="false" linkedin="true" pinterest="false" reddit="false" email="true" email_subject="Hey, thought you might enjoy this! Check it out when you have a chance:"][/cs_column][/cs_row][/cs_section][cs_section bg_color="hsla(0, 36%, 74%, 0)" parallax="false" style="margin: 0px;padding: 0px 0px 45px;"][cs_row inner_container="false" marginless_columns="false" bg_color="hsla(0, 29%, 81%, 0)" style="margin: 0px auto;padding: 0px;"][cs_column fade="false" fade_animation="in" fade_animation_offset="45px" fade_duration="750″ type="2/3″ style="padding: 0px;"][x_line class="pbn" style="border-top-color: #b75e08;border-top-width: 2px;"][x_custom_headline level="h2″ looks_like="h3″ accent="false" class="pbm"]More News[/x_custom_headline][x_recent_posts type="post" count="3″ offset="" category="news" orientation="horizontal" no_sticky="true" no_image="false" fade="false" class="pbl"][x_button type="transparent" shape="rounded" size="global" block="false" circle="false" icon_only="false" href="https://www.hrundgunnsteinsdottir.com/category/news/" title="" target="" info="none" info_place="top" info_trigger="hover" info_content="" style="float: right;"]all posts in news[/x_button][/cs_column][cs_column fade="false" fade_animation="in" fade_animation_offset="45px" fade_duration="750″ type="1/3″ style="padding: 0px;"] [/cs_column][/cs_row][/cs_section][/cs_content]